17

Oct
Cyclones
< General Studies Home Page 
Contents
---
Introduction
Tropical cyclone is a violent storm system characterized by a low pressure centre, strong winds and heavy rainfall. They originate over oceans in tropical areas and move to coastal areas bringing about large scale destruction. It is one of the most devastating natural calamities.
For Prelims: Different names
Cyclones – Indian Ocean region

Hurricane – Atlantic / East pacific

Typhoons – West Pacific and South China Sea

Willy-willies – West Australia
How does a cyclone originate and intensify?
Tropical cyclones originate over warm tropical oceans.

The condition favorable for the formation and intensification of tropical storms are:




a. Large Sea surface with temperature higher than 26.5 degree celsius to a depth of atleast 50 meters below the surface.




b. Presence of the Coriolis force (A distance of atleast 500 km from equator) (as Coriolis force is zero at equator)




c. Small variation in the vertical wind speed (low wind shear i.e. there is not too much change in wind direction and strength at different levels)




d. Pre-existing weak low-pressure area or low-level cyclonic circulation




e. Upper divergence above the sea level system




f. If ITCZ is away from Equator, the tropical cyclone are intensified because of warm air masses converging at ITCZ.
Process of formation of a tropical cyclone
 Warmer ocean surface (generally late summers) -> Low pressure center on water bodies -> winds from surrounding region are attracted towards this region -> while rising up they release the latent heat which acts as an energy for tropical cyclone.
Process of intensification of storm
The energy that intensifies the storm, comes from the condensation process in the towering
cumulonimbus clouds, surrounding the center of the storm. With the continuous supply of moisture from the sea, the storm is further strengthened.
Various stages in formation of a tropical cyclone

Tropical Depression (wind speed < 62km/h) -> Tropical Storm (wind speed > 62 km/h) -> Cyclone (Wind speed >= 119 km/h) -> Super Cyclone (wind speed >= 320 km/h)

Tropical Cyclone Structure

Because the converging wind spiral inward towards the central low pressure area, the wind rotate in a counterclockwise direction around the central low in the northern hemisphere (clockwise in the southern hemisphere). As these winds spiral inward they draw in the thunderclouds around the storm, creating the spiral rain bands that are clearly visible on satellite images of the storm.

As the winds converge toward the central core, they spiral upwards, sending warm moist air upwards. As this air rises, it cools and releases its latent heat into the atmosphere to add further energy to the storm.

The winds spiraling around this central core create the eye of the tropical cyclone and eventually spread out at high altitudes. Eventually, cool air above the eye begins to sink into the central core. This dry descending air within the eye gives the core a clear, cloud free sky, with little to no wind. The wind is coming inwards towards the center from all direction. This convergence causes the air to sink in the eye. This sinking creates a warmer environment and the clouds evaporate leaving a clear area in the centre.

Dissipation

Since the main source of energy for the storm is the heat contained in the warm tropical and subtropical oceans, if the storm moves over the land, it is cut off from its source of heat and will rapidly dissipate.

Other terms


▫ Land fall: It refers to the centre of a storm – or its eye – moving over land from the sea.
A Schematic Representation of Tropical Cyclone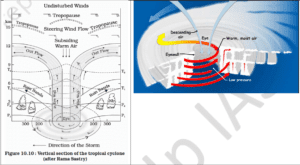 Why Tropical cyclones Don't Originate On western coast of  S. America, Africa and Australia
Cold Ocean Currents -> don't let shifting of ITCZ -> warm air don't converge here.
How are Cyclones Originating in Indian Ocean named?
The system of naming of Atlantic cyclones (hurricanes), is a fairly old practice, but giving names to cyclones that originate in the northern Indian Ocean and affect South Asian countries began only at the turn of this century.

Currently, the Cyclones worldwide are named by 9 regions – North Atlantic, Eastern North Pacific, Central North Pacific, Western North Pacific, North Indian Ocean, South West Indian Ocean, Australian, South Pacific, and South Atlantic.

The system of naming cyclones was finalized at a meeting of World Meteorological Organization (WMO) and the United Nation Economic and Social Commission for Asia and the Pacific (ESCAP) in 2000, and the first cyclone was named in 2004.

Eight north Indian ocean countries, namely Thailand, Myanmar, Bangladesh, India, Sri Lanka, Pakistan, Maldives, and Oman were asked to contribute names so that a combined list could be compiled. Each country gave 8 names and a combined list of 64 names were prepared by the Regional Tropical Cyclone Committee.

One name from each country is picked in an order to name the cyclones.

The Cyclones in North Indian Ocean basin are named by Indian Meteorological Department and the first tropical cyclone was named in 2004 as Onil (given by Bangladesh).

This list exhausted with Cyclone Amphan in 2020.

The latest list of tropical cyclone names was adopted by the WMO/ United Nations Economic and Social Commission for Asia and the Pacific (WMO/ESCAP) panel countries in April 2020 for naming of tropical cyclones over north-Indian ocean, including Bay of Bengal and Arabian Sea.

The 13 panel countries – Thailand, Myanmar, Bangladesh, India, Sri Lanka, Maldives, Pakistan, Iran, Yemen, Oman, UAE, Qatar and Saudi Arabia – have submitted a list of 13 names each [total 169]

Why Name a Cyclone: Ease of Communication

Remembering cyclones or discussing their impacts, or warning people about them, becomes easier with a name.

Giving a name to a cyclone makes it easier to spread the word.
Cyclone color coding
IMD has its own color-coding system for warning and information regarding cyclones. It is used to signify the intensity of the situation and the warning associated with it. The main objective of the color coded system is to alert people of hazardous weather conditions which have potential to damage properties and lives.

Green: All is well – no adverse weather conditions.

Yellow: It asks the 'guards to be updated' to handle the bad weather that can last for days, with a warning of affecting daily activities.

Orange: "Be Prepared" – It can be warning for extreme damage to communication disruptions that can lead to power cuts, road and railway blockade.

Red: It is the highest level of warming that notifies the authorities to take action. This is a case in which there is a threat to life with the worst weather conditions.

Cyclone Biparjoy 

Some unique aspects about Biparjoy (JUNE 2023):

 It was a slow cyclone. It developed into a cyclonic storm on 6th June 2023 and made a landfall on June 15. The 10 day life period, during which it developed into a very severe cyclonic storm and then an extremely severe cyclonic storm, was longer than the average but not the longest.




One of the reasons for its longer stay on the sea was its relatively slow speed.

Cyclones in the Arabian Sea typically progress with a speed of 12-14 km per hour. Biparjoy, through most of its life, moved at a speed of 5-7 km an hour while covering a distance of nearly 1200 km to Gujarat.

Reason: Biparjoy was sandwiched between two anti-cyclonic systems. One of them had the effect of aiding its northwards movement, while the other was sort of pulling it back. The combined effect was that it moved relatively slow.
Impact: The slow speed meant that even after reaching land, the cyclone remained close
enough to the sea to draw moisture and sustain itself. This allowed it to penetrate much
deeper in land (till Ajmer, Rajasthan)
 It was a recurving tracks cyclone.

The influence of these anticyclonic systems also made its trajectory wobble. We call it




recurving tracks cyclone. The trajectory of such cyclones tends to change directions




frequently.

Therefore, it was only from 11th June, it was concluded that cyclone is hitting




Gujarat coast (earlier it was presumed to be hitting Karachi)
Excellent work of Disaster Management:
Excellent Forecasting: Management of recent Cyclone Biparjoy indicates that India has successfully planned and executed integrated forecast systems and computational infrastructure to reduce cyclone mortality by nearly 90% (when compared to the first decade of 21st century).

Early warning (4 days in advance before landfall) gave enough time for administration to prepare.

Note: A cyclone in 1998, that stuck Gujarat, reportedly killed nearly, 3,000 people, and it can be safely said that India has moved beyond that era.
Why are tropical cyclones becoming more dangerous?
Climate Change -> Marine Heatwaves

Ocean absorbs most of the access heat in the atmosphere, it is leading to oceans warming up globally causing marine heatwaves.

 Warming of oceans is leading to other challenges like increased intensity of cyclones, rising sea levels, and changing weather patterns globally.

For e.g., a new study has suggested that warm subsurface waters in the Bay of Bengal has likely helped fuel the 2020 Amphan super cyclone.
Way Forward:
With climate change, be prepared for stronger cyclones.

Coastal Regulation Zone Rules should be followed in letter and spirit.

Further, it should also specify that only those structures, which are capable of withstanding these cyclones are built in these regions.

The dwelling of rural, coastal inhabitants must be strengthened.

Increase green cover like Mangroves which act as natural shield and improve resilience of coastal areas.

Forecasting should continue to improve.

There should also be focus on maximizing skills of the forecasts of cyclone intensities, lifespans, speeds, and tracks.

 India's academic climate community should build teams to work with IMD to advance understanding of cyclone processes and to improve cyclone predictions.