03

Nov
Labour Productivity
< Daily Current Affairs & Important Editorials
---
Labour Productivity
GS- III >> Economy >> Employment
Context: Recently, Infosys founder N.R. Narayana Murthy suggested that young Indians should work 70 hours a week to boost the country's development.
Debate sparked by Narayana Murthy's views:
It delves into the concepts of worker productivity and labor productivity, the complexities of measuring productivity, and the relationship between worker productivity and economic growth.
Worker Productivity v/s Labour Productivity:
Difference:
Worker productivity, which differs from labour productivity only in the types of work involved, measures the output value per unit of labour time at a micro level.

At the macro level, it's evaluated through the labour-output ratio or changes in Net Domestic Product (NDP) per worker in each sector.

However, in some services, especially those requiring intellectual labour, measuring output independently is challenging, so workers' income often acts as proxies for productivity.

Increasing working hours to enhance productivity implies that the additional work and output value produced don't receive commensurate pay, which may benefit profits but adversely affect workers.
Complexities of measuring productivity:
Measuring productivity, especially in services involving intellectual labor, can be challenging.

In such cases, workers' income is often used as a proxy for productivity.

Murthy's assertion that increasing working hours enhances productivity can be flawed.
Link between worker productivity and economic growth:

The connection between worker productivity and economic growth is intricate.

While enhanced productivity influences economic growth, it may not necessarily lead to improved prosperity for workers.

Income disparities and skewed income distribution within India are highlighted.
Current working hours status in India:
Current working hours of young Indians: According to data from the Time Use Survey conducted in India in 2019, young Indians aged 15-29 presently work an average of 7.2 hours a day in rural areas and 5 hours a day in urban areas.
High working hours in Uttarakhand: In the context of urban areas, a state-wise comparison reveals that Uttarakhand leads the way, with its young population working an average of 9.6 hours a day.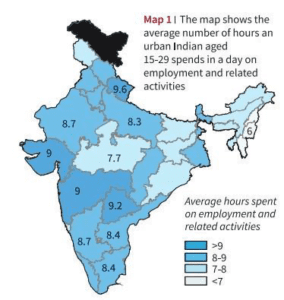 Comparing India with Japan and Germany:
Link between work productivity and longer hours:
Murthy asserts that India's low work productivity necessitates longer working hours to compete with countries like Germany and Japan.

This is due to stark differences in labour force, technological development, and sociopolitical structures.

After World War II, both these nations temporarily increased their average annual working hours to 2,200-2,400 hours (8.3 to 9 hours per day), but later, as labour productivity improved.
They reduced working hours to about 1,400-1,600 hours (5.3 to 6 hours per day) by 2020.
Comparing work hours and labor productivity:
India, on the other hand, maintained annual working hours above 2,000 but experienced only a marginal increase in labor productivity, from $2 per hour to $9 in the same period.
Implications of longer work hours:

Longer work hours mean less time for sports and leisure activities.

When compared to Germany and Japan, Indians allocate less time to sports and leisure.
They spend more time on sleep and household chores.
Challenges in India:
Income distribution disparities and productivity gains:

Income inequality within India is explored, showcasing how the top income groups have disproportionately benefited from economic growth compared to the lower-income segments.

It indicates that a considerable portion of society's gains have disproportionately benefitted the top income groups, rather than the workers.

Factors like labour laws and informal employment contribute to this phenomenon.

The link between worker productivity and economic growth is intricate.

While increased productivity contributes to economic growth, its impact on workers' prosperity is less certain.

Worker productivity and labor conditions:
The rise in informal employment and the exploitation of workers in sectors like manufacturing and IT are linked to India's low wages.
Despite high labour productivity, low wages persist due to profit motives.
Challenges in comparing labor productivity:
Considering that 89% of the Indian workforce is engaged in informal employment, while Germany has only 4.2% and Japan around 8% in informal employment, challenges arise in comparing these nations' labor differences in the nature of their labor force.
Way forward:
Balancing work and life:

Enhance productivity through technology adoption and technical education.

Focus on output and invest in the right tools and resources.

Promote growth and a promising future to motivate the youth.

Prioritize self-care, including exercise, hobbies, quality sleep, and spending time with loved ones.

Government schemes to enhance productivity:

Skill development initiatives such as Skill India.

Digital India.

Make in India.

Startup India.

Ease of Doing Business reforms.

National Industrial Corridor Development.

Incentives for research and innovation.

Tax reforms like the Goods and Services Tax (GST).
Source: Understanding worker productivity and how it relates to economic growth