23

Sep
Applications of Biotechnology
< General Studies Home Page

Contents
---
Applications of Biotechnology
The applications of biotechnology include therapeutics, diagnostics, genetically modified crops for agriculture, processed food, bioremediation, waste treatment, and energy production. This can be broadly divided in four major industrial areas
Agriculture and other food items (beer, wine)

Health care

Non-food (industrial) uses of crops and other Products (e.g. biodegradable plastics, vegetable oil, biofuels)

Environmental uses
A) Agriculture and Food Production
a) Alcohol, Curd and other fermented food material
b) GM Animals
In 1997, the first transgenic cow – Rosie, produced human protein-enriched milk (2.4 grams per litre).
c) GM Crops
Crops whose DNA has been altered are known as GM crops. This genetic modification of crops can add or remove certain characteristics from the plant and thus can bring many advantages.
BT Cotton
Specific BT Toxic gene (cry1Ac) were isolated from Bacillus thuringiensis and incorporated into several crop plants such as cotton. This produces proteins that kill certain insects such as lepidopterans (tobacco budworm, armyworm), beetles, etc.
It has been grown in India since 2002 and over the years have given increase productivity and area under crop cultivation. It has also led to decrease in insecticide which fought bollworms by 97%.
But it has also raised concerns like increased water consumption, and emergence of pesticide resistant pests (e.g., pink bullworm), and increased use of insecticide for controlling pests like sucking pests.
BT Brinjal
Transgenic Brinjal created by inserting a crystal protein gene (Cry1Ac) from the soil bacterium Bacillus thuringiensis into the genome of various brinjal cultivar. It gives resistance against lepidopteron insects in particular the Brinjal fruit and shoot border (BFSB), the most common pest which affects 30-50% of the Brinjal crops.
The crop also cleared the GEAC's biosafety test in 2009. But government yielded to anti-GM activists and declared a moratorium in 2010 on the crop.
But some cases of illegal BT Brinjal cultivation were observed in Haryana in 2019
Why are some groups calling for allowing of BT Brinjal in India?
It had cleared the GEAC's biosafety test in 2009.
Increased benefit for farmers: Popular all over the world. In Bangladesh studies shows zero borer infestation which has led to cut in input pesticide use by 60%.
When GM Crops are not officially available, farmers turn to unapproved knock offs that may not conform to accepted biosafety standards.
Why is BT Brinjal not allowed in India? Why is it opposed by various activists?
There are fears that it may impact India's plant biodiversity. India has more than 3,000 natural varities of Brinjal and activists are worried that if BT Brinjal is allowed in India all varieties will be contaminated.
Further, cross pollination may lead to herbicide resistant super weeds that can further threaten environment and biodiversity.
Health Impact is something that needs to be studied more.
Not so obvious benefits: A recent study from surveys of farmers indicate that 2/3rd of the farmers who moved to BT Brinjal have had a 'bad' or 'very bad' experience.
GM Mustard
What is GM Mustard?
DMH-11 (Dhara Mustard Hybrid) is a genetically modified (GM) mustard Hybrid.
GM mustard is the country's first genetically modified food crop.
It was developed by a team of scientists led by former Vice Chancellor Deepak Pental, of DU at Center for Genetic Manipulation of Crop Plants (CGMCP), Delhi University by crossing Indian mustard cultivars with juncea lines of East European origin like 'Early Heera' and Donskaja.
Claim of higher yield: Claims around 30% more yield than the traditional varieties
What genetic modification was achieved and what are its benefit?
Barnase gene and Barster gene from Bacillus amyloliquefaciens

Barnase impairs pollen production

Barster blocks the function of Barnase

Hybridization becomes possible:

This method was used to developed DMH-11 by crossing a popular Indian mustard variety 'Varuna' (the barnese line) with an East European 'Early Heera-2' mutant (barstar).
Arguments for and against approval of GM mustard
For
Higher Production: GM Cotton which has been used for over a decade has not resulted into any harmful affect. Country's cotton production has gone up by 2 and a half time since 2002 when GM cotton was first introduced.
Reducing Import Dependency: India annually imports 3 million tonnes of Soybean oil (entirely GM) and another 0.4 million tonnes of rapeseed oil (partially GM). No NGO till date has blocked a single consignment of imported GM oil or even corn entering any port.
Saving Forex: Will save a lot of foreign exchange and Balance of trade would improve.
Keeping India Scientifically relevant: Approval was necessary for India to be scientifically relevant and to have better seeds to address threats from climate change.
Against
The main contention is that the GM mustard incorporates three alien genes – barnase, barstar, and bar – rendering it inherently unsafe for human and animal health.

But these genes have already been deployed in Canola, and we import it freely.

Mustard is a food crop unlike cotton, so both should not be compared

But cotton seed also yield oil and oilcake. Cotton seed oil is the 2nd largest oil producing seeds in the country after Mustard.

All health effects not properly known yet

Environmental damages should be studied properly first.

GM Cotton has led to higher requirement of water and pesticides not only increasing the cost but also harming the environment

Yield claims have been challenged by many organizations
GEAC Approval
In Oct 2022, GEAC approved commercial cultivation of genetically modified mustard yet again. The approval allowed environmental release of two varieties of genetically engineered mustard, so that it can be used for developing new parental lines and hybrids under the supervision of ICAR. The environmental release of DMH-11 will allow for its seed production and testing as per existing ICAR guidelines and other extant rules/ regulations prior to commercial release. The field demonstration studies on the effect of GE mustard on honeybees and other pollinators was also allowed to be conducted.
Other conditions set for clearance:
Approval is for limited period of 4 years and is renewable for 2 years at a time based on compliance report.

External experts will visit the growing sites of the crop at least once each season.

Applicant (Centre for Genetic Manipulation of Crop Plants) shall deposit 100 grams each of approved hybrids as well as their parental lines with the ICAR-National Bureau of Plant Genetic Resources and communicate the same to GEAC within 30 days of issue of the clearance letter for the purpose of future reference in case of trade, traceability, and dispute on account of ownership.

The applicant should also develop and deposit the DNA fingerprints of the approved varieties to ICAR.

Commercial use of DMH-11 will be subjected to the Seed Act and related rules and regulations.
The Proposal would now go for environment ministry's clearance.
Earlier in 2017, after GEAC's approval, the environment ministry vetoed the approval and asked GEAC to hold more studies on the GM crop.
Why did it take so long for GEAC to give clearance?
Opposition from assorted green groups and the RSS-affiliate Swadesh Jagran Manch.

Concerns related to 'Bar' gene. This makes mustard plant tolerant to the spraying of glufosinate ammonium, a chemical used for chemical weeds. But the developers of DMH-11 say that 'Bar' is a marker gene.

Concerns about GM mustard threatening or undermining the population of honeybees. However, GEAC has cited a study be IARI which says that it is unlikely that the bar, Bernese, and Barster will pose an adverse impact on honey bees and other pollinators. GEAC has also recommended a field demonstration study on the issue to generate scientific evidence in the Indian agro-climatic conditions.
Criticism of Approval:
An NGO Coalition for GM Free India says that since 2017, nothing much has changed. Only two additional test have been prescribed by GEAC in a perfunctory and irresponsible fashion since then as though the debate about GM mustard was about these two aspects alone.

Conflict of Interest: GEAC had set up an expert committee in Aug 2022. This was headed by a scientist from the DBT. This is a conflict of interest provided DBT is the founder of GM mustard.
Conclusion: A scientifically approved and exhaustively tested DMH-11 approval seems very promising for India which is burdened every year due to high import bills of edible oil.
GM RUBBER
Developed by Kerala based – Rubber Research Institute of India
Rubber Research Institute of India have developed a plant tailored for the climatic conditions in the Northeast.
Rubber board research farm at Sarutari on the outskirts of Guwhati now sports world's first GM rubber plant, tailored for climatic condition in the north-east.
Genetic Modification: The GM rubber has additional copies of the gene MnSOD, or manganese-containing superoxide dismutase, inserted in the plant, which is expected to tide over the severe cold conditions during winter – a major factor affecting the growth of young rubber plants in the region.
Advantages and Controversies
Make crops more tolerant to anti-biotic stresses (cold, drought, salt, heat) etc.

E.g., GM Rubber developed by Rubber Research Institute of India

Make plants Pest Tolerant.

Reduces reliance on chemical pesticides.

E.g. BT cotton, BT Brinjal (in Bangladesh)

Help to reduce post-harvest losses
Enhance the nutritional value of food, e.g., Golden Rice (Vitamin A enriched rice)
Tailor-made plants to supply alternative resources to industries, in the form of starches, fuels, and pharmaceuticals.
But in India, the cultivation of GM crops has been a controversial issue right from the beginning. BT Cotton is the first and only GM crop which is being commercially cultivated in the country. Other crops like BT Brinjal and GM Mustard have still not been approved because of various environmental and health concerns.
However, confined field trials have been allowed for 20 GM crops. These include Golden Rice and GM Rice as well.
But recent controversy surrounding BT Brinjal being grown illegally in Haryana and GM rice complaint by a French importer shows that some of these crops may have reached farmers illegally.
Example Questions
"GM crops can increase crop nutrition, yield, pest resistance and climate suitability" Illustrate with examples [10 marks, 150 words]

"In case of BT Brinjal, paranoia trumped scientific rationale, and it was the farmer that suffered" Critically Analyze [10 marks, 150 words]

The Haryana contamination (GM Brinjal cultivation) should be food for thought – activist pressure thwarting scientific evidence neither helps agri-growth/food security, nor does it ensure safety. Elaborate [10 marks, 150 words]

Discuss the key concerns and challenges associated with GM crops in India. [15 marks, 250 words]
Golden Rice
Golden rice (developed by IRRI) is variety of rice produced through genetic engineering to biosynthesize beta-carotene. Beta-carotene is a nutrient similar to what is found in orange-colored fruits and vegetables and is converted into Vitamin-A as needed by the body.
Thus, golden rice can help south and south-east Asian countries, where two-thirds or more of daily calorific intake is obtained from rice. Research has indicated that the golden rice can provide upto 50% of the daily requirement of an adult for vitamin A.
Issue of Illegal cultivation of GM Crops:
BT Brinjal Illegal cultivation in Haryana Rajasthan etc
Sale of Illegal HTBt (Herbicide tolerant Bt) cotton seeds has doubled this year(June 2021)
The HTBt cotton variant adds another layer of modification to BT cotton, making the plant resistant to the herbicide glyphosate, but has not been approved by regulators.
Support for HTBt: Groups like Shetkari Sangathan are demanding the legalization of HTbt cotton.
Saves cost: Weeding labour cost reduces, only one round of glyphosate spraying is needed to deal with the weed.
Illegal sales reduce accountability, hampers government revenue and farmers are at risk of getting wrong information.
Concerns/Fears:
Glyphosate have carcinogenic effect

Unchecked spread of herbicide resistance to nearby plants through pollination, creating a variety of superweeds etc.
Way Forward
Detailed scientific analysis of GM Mustard, GM Brinjal, HTBt Cotton: Considering the advantages of GM crops, it is crucial that government through GEAC goes through detailed scientific analysis of both GM Mustard and GM Brinjal once again. We need more rigorous and sensitive studies than those conducted so far. This should be done on priority in a fast track manner.
Study international Examples understand the impact of crops like BT Brinjal before reaching any conclusion.
Strengthen Regulatory Framework: There should be steps taken to ensure that illegal/accidental uses of GM Mustard/Brinjal/Rice/HBt Cotton doesn't take place.
For this there has to be steps taken on multiple front – from farmers' education/awareness to action against vendors supplying the illegal GM Seeds. This would require a thorough probe and an efficient regulatory mechanism in future.
Finally, there should be steps taken to enhance the labelling infrastructure so that GM food items can be properly labelled, and citizens can practice their right to choose by accepting or rejecting such food crops.
B) Health care
Diagnosis: Molecular Diagnosis: RT-PCR and Rapid Anti-body tests
Vaccines (covered separately in details with health sector): For e.g., various vaccines for COVID-19 were developed with the help of biotechnology – mRNA vaccines, vaccines with attenuated viruses etc.
Medicines produced by Biotechnology

g., Genetically engineered insulin

Gene Therapy – It refers to process of introduction, removal, or change in the content of an individual's genetic material with the goal of treating the disease and a possibility of achieving long term cure.
Potential of controlling mosquitoe borne diseases – By introducing sterile mosquitoes (genetically formed)
Personal Genomics – Predictive, Precision, and stratified medicines.
Transgenic Animals – Rats etc. for testing of medicines, therapies etc.
a) GENE THERAPY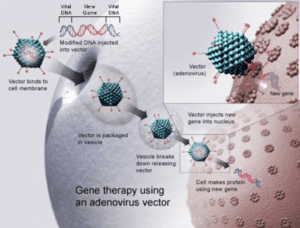 Introduction
If a person is born with a hereditary disease, can a corrective therapy be taken for such disease? Gene therapy is an attempt to do this.
Gene therapy refers to the process of introduction, removal or change in the content of an individual's genetic material with the goal of treating the disease and a possibility of achieving long term cure.
Gene Therapy Products (GTPs) include the mechanisms to deliver nucleic acid components by various means for therapeutic benefit to patients. They include entities that are used for things like gene augmentation, gene editing, gene silencing, synthetic or chimeric gene augmentation etc.
Note: Not all medical procedures that introduce alterations to a patient's genetic makeup can be considered a gene therapy. For e.g.: Bone Marrow transplantation and organ transplants in general have been found to introduce foreign DNA into patients.
Advantages of promoting gene therapy
Permanent treatment for genetic diseases: the therapeutic approach earns the advantage of being long lasting, sometimes permanent result.
High burden of rare genetic diseases in India: Around 7 core of India's population suffers from rare genetic diseases. Gene therapy can prove to be a turning point in treatment of such genetic diseases.
Worldwide market of upto $250 billion by 2025; continuous scope of medical tourism.

In USA and Europe, the approval of several gene therapy products in USA and EU have paved the way for development of therapies for a variety of previously untreatable disorders. The guidelines should help in development and fast tracking of approval of such GTPs in India too.
Concerns/Limitations
Promotion of development of gene therapy also brings along with it unique technical risks and ethical challenges.
Technical Challenges
The gene therapy may be associated with unwanted immune system reactions. For e.g. when vectors (viruses) are attacked by the immune system of the body.
Current gene therapy mechanisms can sometimes target the wrong cells.
The delivery viruses may mutate and become harmful.
Ethical Challenges
For e.g. creation of GM babies using germline gene editing by a Chinese scientist attracted global criticism and fuelled debate on ethical concerns regarding applications of gene therapy technologies.

Playing god debate
National Guidelines for Gene Therapy Product Development and Clinical Trials – Released by ICMR in Dec 2019: Key Highlights
The guidelines are aimed at ensuring that gene therapies are introduced in India and clinical trials for gene therapy can be performed in an ethical, scientific and safe manner.
They provide the general principles for developing gene therapy products (GTPs) for any human ailment and provide a framework for all areas of GTP production including pre-clinical testing, clinical administration, human clinical trials, as well as long term follow up. These must follow the established general principles of biomedical research.
They apply to all stakeholders involved in the field of gene therapy including researchers, clinicians, oversight/regulatory committees, industry, patient support groups and any other involved in GTP development or their application in humans and their derivatives.
The guidelines will serve as a roadmap for those in the field trying to develop gene and cell therapies and will thus contribute to accelerating the development of advanced therapeutic options
ICMR has also proposed setting up of task force to promote gene technology research in the country.
Conclusion:
Gene therapy will create more choices for patients who currently live in challenging, or with incurable diseases.

The guidelines should only be the first step towards promoting the development of GTP in the country. It should be accompanied by increased investment in the sector, R&D support avenues, and education and awareness amongst the clinical community.

All the stakeholders need to work on this field on priority for not only ensuring better life for 7 crore Indians living with various genetic diseases but to also ensure that India remains at the forefront of providing cost effective and high quality health services.
Example Questions
Gene therapy is gaining popularity in developed countries to treat various types of rare genetic disorders. Describe briefly what gene therapy is and what advantages it has over other treatments? [250 words, 15 marks]
How are National Guidelines for Gene Therapy Product development and Clinical Trials, 2019 going to contribute to the gene therapy development in the country. [250 words, 15 marks]
C) Biotechnology and Environment
GM algae, crops etc. can provide more biomass for biofuel

Fighting plant and animal diseases

Waste Treatment / Bio-Remediation

Biodiversity Conservation

E.g. -> De-extinction of species; Colossal is a new bioscience and genetics company, with the idea of bringing many extinct species back to life. Scientists at Harvard University in the USA would insert the Giant Woolly mammoth's (extinct 4,000 years ago) genes responsible for tiny ears, subcutaneous fat and hair length and Color into living elephant skin cells. Once they are successful in bringing these hybrids back to life, Colossal will proceed with the ultimate goal of reviving the ancient extinct animals by producing more such hybrids.
Criticism: Immoral; revival of these species may threaten the existing ecosystem and disturb the food chain which has evolved over the years; Rather than focusing on revival of long extinct species, biotechnology should focus on protecting the existing ones.