03

Nov
Daily Current Affairs – Nov 3, 2023
< Daily Current Affairs & Important Editorials
---
GS- III >> Environement Conservation >> Biosphere
In Context: The second anniversary of World Biosphere Reserve Day (on 3rd November)
About Biosphere Reserves:
Biosphere Reserves involve local communities and all interested stakeholders in planning and management. They integrate three main functions:
Conservation of biodiversity and cultural diversity.
Economic development that is socio-culturally and environmentally sustainable.
Logistic support, underpinning development through research, monitoring, education and training.

These three functions are pursued into three main zones:

Core Areas: It comprises a strictly protected zone that contributes to the conservation of landscapes, ecosystems, species and genetic variation.
Buffer Zones: It surrounds or adjoins the core area(s), and is used for activities compatible with sound ecological practices that can reinforce scientific research, monitoring, training and education.
Transition Area: The transition area is where communities foster socio-culturally and ecologically sustainable economic and human activities.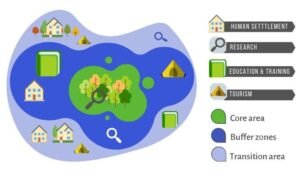 About World Network of Biosphere Reserves (WNBR):
Formed by UNESCO in 1971 (50th anniversary in 2021). It consists of a dynamic and interactive network of sites of excellence.
It promotes North-South, South-South and South-North-South collaboration and represents a unique tool for international cooperation via exchange of experiences, capacity-building and promotion of best practices among Biosphere Reserves.
Some Facts:
In South Asia, the first one was the Hurulu Biosphere Reserve (tropical dry evergreen forest), in Sri Lanka.
In India, the first biosphere reserve was designated by UNESCO namely, the blue mountains of the Nilgiris Biosphere Reserve over Tamil Nadu, Karnataka and Kerala.
The existence of the new World Network of Mountain Biosphere Reserves provides a welcome opportunity for Bhutan and Nepal to establish their first biosphere reserves and participate in the world network.
Long-term threats: Biodiversity loss, climate change, pollution and population dynamics, accelerated by the blind belief.
Source: www.thehindu.com
GS- I >> History >> Art & Culture
Context: Recently, Kozhikode, Gwalior added to UNESCO creative cities list.
About UNESCO Creative City Network (UCCN):
A flagship city programme of UNESCO launched in 2004.

Objective: "To promote cooperation among cities which have recognized culture and creativity as strategic drivers of sustainable urban development".
Only cities with a rich historical and cultural heritage are eligible to be a part of the UCCN.
The eligibility criteria for joining the UCCN do not mention a requirement for cities to have a rich historical or cultural heritage.
Instead, cities are required to demonstrate a commitment to promoting creativity and sustainable urban development, and must present a realistic action plan for projects, initiatives, or policies to be executed over the next four years to achieve the objectives of the Network.
The UCCN covers seven creative fields including Literature, Film, and Gastronomy.

Indian cities on UCCN:

Kozhikode (Kerala): Literature (2023)

Gwalior (Rajasthan): Music (2023)

Srinagar (Jammu & Kashmir): Crafts and Folk Arts (2021)

Mumbai (Maharashtra): Film (2019)

Hyderabad (Telangana): Gastronomy (2019)

Chennai (Tamil Nadu): Creative city of Music (2017)

Jaipur (Rajasthan): Crafts and Folk Arts (2015)

Varanasi (Uttar Pradesh): Creative city of Music (2015)
Source: indianexpress.com
GS- III >> Science & Technology >> Space
In News: National Aeronautics and Space Administration (NASA) launched a sounding rocket as part of its INFUSE mission.
About INFUSE Mission:
Launched from the White Sands Missile Range in New Mexico, the Integral Field Ultraviolet Spectroscope Experiment (INFUSE) aims to study the Cygnus Loop, a supernova remnant.

The mission collects data from an altitude of 150 miles, specifically gathering far-ultraviolet light from the Cygnus Loop.

Its goal is to understand how the supernova transfers energy to the Milky Way by studying the blast wave's interaction with cold gas pockets, helping to decipher the stars' life cycles.
The Cygnus Loop originated from a star, 20 times the size of the Sun and collapsed into a supernova around 20,000 years ago.
Source: science.nasa.gov
GS- III >> Internal Security >> Money Laundering
Context: Recently, ED raids various locations in Rajasthan in money laundering case
About Money Laundering:
Money laundering is the illegal process of making 'dirty' money appear legitimate instead of ill-gotten.
The United Nations Office on Drugs and Crime (UNODC) conducted and report estimates that in 2015, criminal proceeds amounted to 4.6% of global GDP.
India was identified as a high-risk zone for money Laundering by International Centre for Asset Recovery in 2015.
How is Money Laundered?
Placement: The placement makes the funds more liquid since by depositing cash into a bank account can be transferred and manipulated easier.
Layering: Layering is the process of separating the proceeds of criminal activity from their origin through the use of many different techniques to layer the funds.

These include using multiple banks and accounts, having professionals act as intermediaries and transacting through corporations and trusts, layers of complex financial transactions, such as converting cash into traveller's checks, money orders, wire transfers etc.

Integration: It is the stage at which laundered funds are reintroduced into the legitimate economy, appearing to have originated from a legitimate source.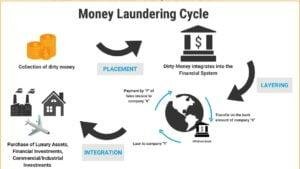 Impact of Money Laundering:
Economic impact: It allows drug traffickers, smugglers, and other criminals to expand their operations. This drives up the cost of government due to the need for increased law enforcement and health care expenditures to combat the serious consequences that result.
Social impact: The economic and political influence of criminal organisations can weaken the social fabric, collective ethical standards, and ultimately the democratic institutions of society.
On external sector: Excessive illicit capital flight from a state may be facilitated by either domestic financial institutions or by foreign financial institutions. That illicit capital flight drains scarce resources specially from developing economies so by that way economic growth of respective economies is adversely affected.
On real sector: Money laundering adversely affects economic growth through the real sector by diverting resources to less productive activities and by facilitating domestic corruption and crime.
Measures taken to check Money Laundering:
Global Level:
Financial Action Task Force Strategy includes:

The criminalization of the laundering of the proceeds derived from all serious crime.

The forfeiture of property connected with a laundering offense or its corresponding value.

The establishment of customer identification and record keeping rule.

The creation of financial intelligence units.

International Monetary Fund:

IMF provides substantial technical assistance to member countries on strengthening their legal, regulatory, institutional and financial supervisory frameworks for AML/CFT.

Each evaluation of financial sector strengths and weaknesses conducted under the Financial Sector Assessment Program of IMF.

Basel Committee:

Know Your Customer (KYC): This mandates the bank to make reasonable efforts to determine their customer's true identity, and have effective procedures for verifying the bonafides of a new customer.

Financial Crimes Enforcement Network (FinCEN):
It is a bureau of the United States Department of the Treasury that collects and analyses information about financial transactions in order to combat domestic and international money laundering, terrorist financing, and other financial crime.
The Vienna Convention: It creates an obligation for signatory states to criminalize the laundering of money from drug trafficking.
National Level:
Legislative Framework:
Prevention of Money Laundering Act, 2002: The PMLA seeks to combat money laundering in India and has three main objectives:

To prevent and control money laundering.

To confiscate and seize the property obtained from the laundered money.

To deal with any other issue connected with money laundering in India
NOTE: Recent Amendment:
It deletes the provisos in sub-sections (1) of Section 17 (Search and Seizure) and Section 18 (Search of Persons), thus doing away with the prerequisite of an FIR or chargesheet by other agencies that are authorised to probe the offences listed in the PMLA schedule.

The scope of "proceeds of crime", under Section 2, has been expanded to empower the agency to act against even those properties which "may directly or indirectly be derived or obtained as a result of any criminal activity relatable to the scheduled offence".

All PMLA offences will be cognisable and non-bailable. It implies that ED officers are empowered to arrest an accused without warrant.
Benami Transactions Prohibition Act, 1988 (Amended in 2016)
Fugitive Economic Offender Act
International Collaboration:
The Financial Intelligence Unit: India (FIU IND) is the nodal agency in India for managing the AML ecosystem and has significantly helped in coordinating and strengthening efforts of national and international intelligence, investigation and enforcement agencies in pursuing the global efforts against money laundering and related crimes.
Base Erosion and Profit Sharing: BEPS is of major significance for developing countries due to their heavy reliance on corporate income tax, particularly from multinational enterprises.
Technological Aspect:
India has acceded to Society for Worldwide Interbank Financial Telecommunication (SWIFT) which assigns each financial organisation a unique code that has either 8 or 11 characters.
Challenges dealing with Money Laundering:
Data Quality: Poor-quality data, nonstandard data structures, and fragmented sources make data aggregation by legal entities, subsidiaries, and vendors difficult.

Lack of Investigation

Lack of Reporting

Lack of Risk Management

Judicial Delay in Conviction
Suggestions:
SIT has recommended that SEBI needs to have an effective monitoring mechanism to study the unusual risk in stock prices of companies when such an increase takes place.
Special attention is required for the education sector, religious institutions and charitable organizations.
Devise a clear anti-Money Laundering Policy and anti-money Laundering officer (EU).

Use of Technology (AI):

Intelligent segmentation: AI analysed transactions, observed patterns, and created new and more relevant segments, placing customers in them based on their behaviour.
Predictive modelling: The advancement in statistical modelling tools is helping banks proactively identify problem areas. The clustering techniques bring the capability to easily modulate multidimensional data.
Source: www.thehindu.com