17

Nov
State Funding of Elections
< Daily Current Affairs & Important Editorials
---
GS- II >> Polity >> Election Commission
Context: The recent Electoral Bond Scheme hearing has brought back the issue of transparency in elections, which has further renewed the debate around the state funding of elections.
About State Funding of Elections:
State funding of elections or public funding of elections refers to a mechanism of providing State's financial support to political parties and candidates for conduct of election campaigns.

This reduces the influx of private and unaccounted money in electoral politics and creates a more level playing field for the political participants.
Current state support for candidates during elections:
Provisions of free airtime on public broadcaster for national parties in general elections and State parties in legislative elections.

Provision for free supply of copies of electoral rolls and certain other items.

National Parties are provided some benefits like security, free office space, utility subsidies.

Registered political parties do not have to pay income tax as laid down in Section 13A of Income tax act.
Various committees suggested State Funding of Elections:
Dinesh Goswami Committee (1990): Dinesh Goswami Committee on Electoral Reforms set up in 1990 recommended limited support, in kind, for vehicle fuel, hire charges of microphones, copies of electoral rolls etc.
Indrajit Gupta Committee (1998): The Indrajit Gupta Committee on State Funding of Elections recommended partial state funding of elections:

It gave the ground of public interest for State funding, it also said that State funding creates a level playing field for parties with less money.

It suggested that State funding be limited to National and state parties and not independent candidates.

In the short term, State funding should be given in kind and not in form of cash.

Law Commission recommendations (1999): Law Commission of India report concluded that total state funding of elections is 'desirable', so long as political parties are prohibited from taking funds from other sources.

It also recommended that appropriate regulatory framework be put in place regarding political parties including provisions to ensure internal democracy, internal structures and maintenance of accounts, their auditing and submission to Election Commission of India before attempting State funding of Elections.

National Commission to Review the Working of the Constitution (NCRWC, 2002): The NCRWC recommended state funding for recognized political parties and candidates in its report submitted in 2002.
Second ARC report (2008): Recommended partial State funding of elections for reducing 'illegitimate and unnecessary funding' of electoral expenses.
Issues with state funding of elections:
Ascertaining the amount: Lack of consensus on the amount to be capped and the distribution mechanism thereof between large political parties with deep pockets and small parties.
Fiscal deficits: Government is already running huge fiscal deficit (Rs. 5.4 trillion), if state funding of elections is carried out, it will widen further.
Not all sources are black money: Candidates take money from various sources like individuals, ideologically committed donor base, NGOs, Corporate entities etc. Any reforms towards bringing transparency and accountability cannot paint all private sources of funds as black money.
Small and subaltern parties: Small and subaltern base political parties do not have corporate base, they are dependent on small cash amounts for electioneering, if state funding excludes them, they have no option but to revert to the donor base.
Not a guarantee that there will be no private funding: State funding is based on a premise that there will be no private funding after that, however in practice, it is very difficult to check private funding even after providing limited State funding for elections.
Frivolous candidates: Creation of frivolous candidates only for the purpose of getting funds cannot be denied.
Election Commission: The present setup of Election Commission is not empowered enough and has limited powers to keep tab on electoral funding, it will be much more difficult to check the influx of private money after state funding of elections.
Global experience: It has been observed that despite partial state funding of elections in many European countries, the expenditure of political parties has not been reduced.
Merits:
Curbs black money circulation: As per various assessments, a serious candidate spends Rs. 10 Crore in Lok Sabha Elections which is much more than the official limit of Rs. 70 Lakhs. Furthermore, as per ADR survey, 69% of the funds come from undisclosed sources.
Curb Criminal-Political nexus: As observed by the Vohra Committee, opaque funding of elections is one of the biggest reasons of involvement of criminal elements in democratic set up, State funding of elections will keep criminal elements out of electoral process.
Reduce crony capitalism and curb post-election inflation: As per a study conducted by IIM Bangalore, due to involvement of huge amount of black money by corporates in elections, postelection environment reflects high inflation periods.
Creates a level playing field: Parties with limited financial resources can have the opportunity to compete more effectively with larger, well-funded parties. This promotes a fairer and more inclusive democratic process.
Socially desirable in electoral context: Political parties become clean, and it is good for the image of political parties.
Encouraging honest entrants: Without the need for extensive private funding, public spirited individuals with proven record of integrity will have a better chance to participate in elections.
Way forward:
Larger political reforms: State funding of elections will be a wasteful exercise if it is not accompanied with larger political reforms like democratization of political process, decriminalization of political process, improving internal democracy in political parties.
Need to set up mechanism: Before allowing State funding, there is a need to develop a robust mechanism to check that parties and candidates are not accepting money from outside.
Funding Political parties: Alternate mechanism of funding political parties instead of elections can be explored, political parties can be funded post elections based on their actual performance.
System of matching grants can be explored: Public funding to national political parties with tax credits, matching grants (of the amount earned by parties from transparent, private sources), and flat grants to parties based on their past performance as done in Germany can be explored.
Recommendations of Law commission of India report on Electoral Reforms (2015): The following recommendations are made by the law commission:
Continue indirect subsidy: Given the high cost of elections and the improbability of being able to replace the actual demand for money, the existing system of giving indirect in-kind subsidies instead of giving money via a National Election Fund, should continue.
Expand in kind subsidy: The wording of Section 78B of the RPA permits the Central Government, in consultation with the ECI, to supply certain items to the electors or the candidates and this provision can be used to expand the in-kind subsidy to include free public meeting rooms, certain printing costs, free postage etc.
Link: www.thehindu.com
GS- II >> Social Justice>> Health
Context: The recent approval of the chikungunya vaccine, Ixchiq, by the U.S. FDA marks a significant development in global health.
Understanding Chikungunya:
Chikungunya, a viral illness, emerged in 1952 in Tanzania, causing joint pain and dubbed 'to become contorted' in the local language.
Transmission Dynamics: Transmitted by mosquitoes, Aedes aegypti and Aedes albopictus, the same vectors for dengue. Mosquitoes contract the virus by biting infected humans or animals, influenced by weather conditions.
Symptoms Unveiled: Symptoms encompass severe joint pain, muscle pain, headache, nausea, fatigue, and rashes.
Treatment Challenges: Before That, there is no specific vaccines or antiviral medications target Chikungunya. Treatments mainly focused on symptom relief, lacking a definitive cure.
Factors fuelling the Outbreak:

Urbanization Maze: Unplanned urban growth contributes to the rising incidence of Chikungunya.
Waste Woes: Inadequate water and waste management create breeding grounds for mosquitoes.
Vaccine Void: The absence of targeted drugs or vaccines hampers effective prevention and treatment.
FDA approval for Chikungunya Vaccine:
First preventive shot for Chikungunya: Ixchiq is the first-ever preventive vaccine against the chikungunya virus approved by the FDA, marking a milestone in addressing this mosquito-borne disease in the United States.
Availability details awaited: While the FDA has granted approval, there is no official information from Valneva about the availability of the Ixchiq vaccine in the U.S. Further updates from the company are awaited regarding distribution.
Vaccine effectiveness: Approval is based on late-stage clinical trials showing the vaccine's effectiveness. The trials demonstrated a remarkable 98.9% success rate in triggering antibody production capable of neutralizing the chikungunya virus within 28 days post-vaccination.
Post-Marketing study for ongoing safety monitoring: The FDA has requested Valneva to conduct a post-marketing study to assess potential risks of severe chikungunya-like adverse reactions after vaccination.
Vaccine Composition:
Lxchiq is administered as a singular injection into the muscle.

It contains a live, weakened version of the chikungunya virus.

Comprehensive studies engaged around 3,500 participants aged 18 and older.

Common side effects include headache, fatigue, muscle pain, joint pain, fever, nausea, and injection site tenderness.

Antibody levels evaluated against a protective threshold observed in non-human primates.
National measures to deal with Chikungunya:
National Vector Borne Disease Control Programme (NVBDCP): A flagship initiative addressing Malaria, Filaria, Kala-azar, Japanese Encephalitis, Dengue, and Chikungunya.

Operates under the Ministry of Health and Family Welfare. Aims to prevent and control the spread of various vector-borne diseases.

Integrated Mosquito Management (IMM): A holistic approach combining chemical, biological, and environmental methods to manage mosquito populations.

Targets the breeding sites of Aedes mosquitoes, responsible for Chikungunya transmission.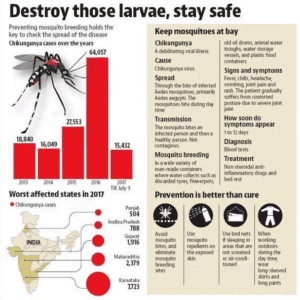 Community awareness campaigns: Educational initiatives to inform communities about preventive measures, symptoms, and early detection of Chikungunya. Empowers communities to actively participate in vector control efforts.
Urban planning integration: Collaborates with urban planning bodies to incorporate mosquito control measures in city planning. Aims to address haphazard urbanization contributing to increased mosquito breeding.
Way forward:
FDA approval: The FDA's approval acknowledges the vaccine's role in addressing an unmet medical need, representing a significant advancement in preventing a potentially debilitating disease.
Limited treatment for Chikungunya: The approval emphasizes the importance of the vaccine in providing a preventive solution, especially in the context of chikungunya, where treatment options are limited.
Fast-Track pathway inspired by COVID research: The hope is that the fast-track pathway, inspired by the success of COVID research and vaccine development, will expedite the rollout of the chikungunya vaccine.
Prevalent regions for Chikungunya: The rollout is particularly crucial in regions where chikungunya is more prevalent, such as Brazil, Paraguay, India (with a significant number of suspected cases), and parts of western Africa.
Global collaboration in disease prevention: The vaccine approval underscores the importance of global collaboration in preventing vector-borne diseases, contributing to public health efforts on an international scale.
Source: www.thehindu.com