17

Nov
Daily Current Affairs – Nov 17, 2023
< Daily Current Affairs & Important Editorials
---
GS- I >> History >> Art & Culture
Context: Recently, Yogini Chamunda and Gomukhi idols were repatriated to India from the United Kingdom under the India Pride Project.
They were stolen from 8th century temple in Lokhari (Uttar Pradesh).
About Yoginis:
Yoginis are a group of powerful female's divinities associated with the Tantrik mode of worship.

They are worshipped as a group of 64 and are believed to possess infinite powers.

64 yoginis are associated with 64 kalas, Ratibandhas, Bhairava, Nayika and emotions of human-being.

Famous Yogini temples includes Chausath Yogini temple (Odisha), Khajuraho temple complex (M.P) etc.
Source: www.thehindu.com
GS- I >> Geography >> Mapping
Context: Recently, Indian Navy has successfully conducted an Anti-Piracy patrol in the Gulf of Guinea in Atlantic Ocean.
About Gulf of Guinea:
Political features:
It lies in the eastern tropical Atlantic Ocean and off the western Coast of Africa.

The Coastline comprises 17 countries starting from Senegal to Angola.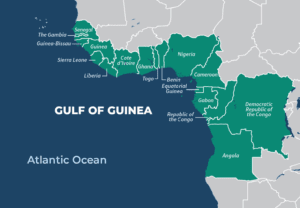 Geographical features:
Major rivers like Niger and Volta drain into the Gulf.

Its coastline forms part of the western edge of the African tectonic plate.

The region is also known for its natural resources like oil, natural gas, and minerals.
Source: www.thehindu.com
GS- II >> Social Justice>> Government Scheme
Context: Recently, PM will launch the PM-PVTG Development Mission to empower the tribals on the birth anniversary of Birsa Munda, which has been celebrated as Janjatiya Gaurav Diwas.
About PM-PVTG Development Mission:
Rs 24,000-crore project focusing on PVTG development.

Aims to bring critical infrastructure (power, water, road connectivity, housing, education, healthcare) to PVTG communities in remote villages.

Involves coordinated efforts of nine ministries, implementing 11 interventions including PM-Gram Sadak Yojana, PM-Gram Awaas Yojana, Jal Jeevan Mission, and others.

Ensures saturation for schemes like Pradhan Mantri Jan Arogya Yojna, Sickle Cell Disease Elimination, TB Elimination, 100% immunization, PM Surakshit Matritva Yojana, PM Matru Vandana Yojana, PM Poshan, and PM Jan Dhan Yojana.
About Particularly Vulnerable Tribal Groups (PVTGs):
More vulnerable among tribal groups in India.

Characterized by primitive traits, geographical isolation, low literacy, zero to negative population growth, and backwardness.

Largely dependent on hunting for food and maintain a pre-agriculture level of technology.

Originated as Primitive Tribal Groups (PTGs) in 1973 by the Dhebar Commission, with 52 groups identified in 1975 and 23 more added in 1993.

Renamed as PVTGs in 2006.

Presently, 2.8 million PVTGs in 75 tribes across 22,544 villages in 220 districts across 18 states and Union Territories in India.

According to the 2011 Census, Odisha has the largest PVTG population at 866,000, followed by Madhya Pradesh at 609,000, and Andhra Pradesh (including Telangana) at 539,000.

Odisha's Saura community is the largest PVTG, numbering 535,000.
Source: pib.gov.in
GS- III >> Science & Technology >> Space
Context: Recently, NASA announced that it will stop sending commands to its fleet of robotic probes on or orbiting the red planet (Mars) due to Mars solar conjunction.
About Mars Solar Conjunction:
Phenomenon occurs when the Sun is between Earth and Mars.

Occurs once every two years.

Sun expels hot, ionized gas during this time.

May corrupt radio signals from Earth to Mars.

Could cause unexpected spacecraft behaviour on Mars.

Occurring between November 11 and November 25 this year.
Key facts about Mars:
Fourth planet in the solar system.

Seventh in size and mass.

Conspicuous reddish object in the night sky.

Two moons: Phobos and Deimos.

Very thin atmosphere.

Rust colour due to iron-rich minerals in regolith.
Source: www.space.com