16

Nov
Daily Current Affairs – Nov 16, 2023
< Daily Current Affairs & Important Editorials
---
GS- I >> History >> Tribal Movement
Context: India celebrates Janjatiya Gaurav Divas (Tribal Pride Day) to honour tribal freedom fighter Bhagwan Birsa Munda.
About Janjatiya Gaurav Divas (Tribal Pride Day):
Janjatiya Gaurav Divas is celebrated on 15th November (since 2021) to recognize the efforts of the tribal freedom fighters.

India's freedom struggle was strengthened by tribal movements by Santhals, Tamars, Kols, Bhils, Khasis and Mizos etc.

The date is the birth anniversary of Sri Birsa Munda who is revered as Bhagwan by tribal communities across the country.
About Birsa Munda (1875-1900):
Early life: Birsa Munda also known as Dharti Aaba, was born in Munda tribe at Ulihatu, Khunti district of Chotanagpur Plateau region (Jharkhand).
Social reforms: He stressed on the importance of prayer, staying away from alcohol, having faith in God and observing a code of conduct.

Based on these, he started the faith of Birsait.

Ulgulan movement: Birsa started a movement called 'Ulgulan', or 'The Great Tumult' against the exploitation and discrimination against tribals.

Led to Chotanagpur Tenancy Act being passed in 1908 which restricted the passing on of land from the tribal people to non-tribals.

Ethical Values: Perseverance, courage, and resilience.
Source: www.livemint.com
GS- II >> Social Justice >> Health
Context: The National Health Authority (NHA) and the Insurance Regulatory and Development Authority of India (IRDAI) collaborated to operationalize the NHCX, a digital health claims platform.
About NHCX:
It is a digital health claims platform that serves as a gateway for exchanging claims-related information among various stakeholders in the healthcare and health insurance ecosystem, enhancing efficiency and transparency in health claims processing.
About NHA:
It is an autonomous entity established under the Society Registration Act, 1860, responsible for implementing Pradhan Mantri-Jan Aaroya Yojana (PM-JAY).

It oversees the design, technological infrastructure, and implementation of the 'National Digital Health Mission' to create a National Digital Health Eco-system.

It replaced the National Health Agency and operates as an attached office of the Ministry of Health and Family Welfare.
Source: pib.gov.in
GS- III >> Science & Technology>> Defence
Context: Russia recently signed a contract to supply Igla-S hand-held anti-aircraft missiles to India and has allowed the production of the Igla under license.
About Igla-S Air Defence System:
Igla-S is a Russian-manufactured MANPADS (man-portable air defence system), also known as SA-24 Grinch.

Its capabilities extend to identifying and neutralizing various air threats, including cruise missiles and drones.

With a range of up to 6 km, the system can effectively destroy targets up to an altitude of 3.5 km.

The 2.5 kg warhead is classified as high-explosive fragmentation (HE-FRAG).

Guidance is facilitated through homing via infrared technology.
Source: timesofindia.indiatimes.com
GS- III >> Science & Technology >> Space
Context: ISRO has successfully conducted a 21-day-long thermal vacuum test for the upcoming launch of the NISAR satellite in 2024.
A thermal vacuum test is tested in a facility that mimics expected flight conditions.
About NISAR:
It is a Low Earth Orbit (LEO) observatory being jointly developed by NASA and ISRO.

NISAR will map the entire globe in 12 days and provide consistent data for understanding changes in Earth's ecosystems, ice mass, etc.

It 2,800 kilograms satellite consists of both L-band and S-band synthetic aperture radar (SAR) instruments, which makes it a dual-frequency imaging radar satellite.

L-band radars are used for clear air turbulence studies and S-band radars are useful for weather observation.

It has a 39-foot gold mesh antenna reflector that focuses radar signals from the upward-facing instrument.
Significance of NISAR:
Large imaging area (>240km) allows full earth imaging in 12 days.

High precision and resolution (<1cm) due to dual-band radars.

Monitors Indian coasts, Antarctica, and deltaic region bathymetry changes.

Observe ecosystem disturbances, ice sheet collapses, and natural hazards.
Applications:
Ecosystem and resource tracking: Measurement of forest cover and land usage, Oil and Gas exploration, water resources, etc.
Disaster management: tracking the source of earthquakes, landslides, and oil spills and mapping the after effects of the disaster.
Cryosphere tracking: changes in the permafrost, ice sheets glaciers, etc.
Source: www.thehindubusinessline.com
GS- III >> Environment >> Climate Change
Context: Australia inked an agreement with Tuvalu to offer residency to its citizens displaced by climate change.
About Tuvalu:
Political features:
It is a nation of nine coral islands and is not landlocked.

Bordering nations: Kiribati and Nauru, Solomon Islands and Vanuatu, Tokelau and Fiji, Samoa, Wallis and Futuna, and Tonga.

Bordering water bodies: Located midway between Hawaii and Australia in South Pacific Ocean.

It is believed to be first nation to face climate change-induced complete submersion.
Geographical features:
Archipelago is volcanic in origin and includes both atolls and reef islands.

Largest atoll: Funafuti.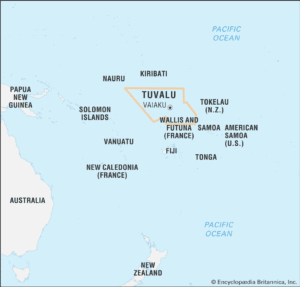 Source: www.downtoearth.org.in