06

Nov
Daily Current Affairs – Nov 6, 2023
< Daily Current Affairs & Important Editorials
---
GS- III >> Science & Technology >> Defence
Context: Recently, the first edition of Chanakya Defence Dialogue organised by the Indian Army in partnership with Centre for Land Warfare Studies (CLAWS).
About Chanakya Defence Dialogue:
It is the first event of its kind being organised by the Indian Army.

The first edition of this dialogue will be held on November 3rd and 4th, 2023, in New Delhi.

It aims to comprehensively analyze security challenges in South Asia and the Indo-Pacific, crafting a roadmap for collaborative security measures.
Source: ddnews.gov.in
GS- III >> Environment >> Flora & Fauna
Context: Recently, new species of epiphytic plant discovered in Arunachal Pradesh.
About Lysionotus namchoomii:
Lysionotus namchoomii is a new species of epiphytic plant (which grows upon another plant) discovered by Scientists of Botanical Survey of India (BSI).

Native range of the genus Lysionotus is the Himalayas, Japan and Indo-China.

New Species bears thick leaves and attractive purple flowers.

It is named in honour of late Chau Phunkyoo Nomchoon, a social reformer from Arunachal Pradesh's Khapti community.

BSI established in 1890, is the apex research organization under the Ministry of Environment Forest and Climate Change.

It carries out taxonomic studies on wild plant resources of country.
Source: www.thehindu.com
GS- I >> Geography >> Volcano
Context: The violent eruption of the Hunga Tonga volcano and its latest consequence being the depletion of the ozone hole.
About Hunga Tonga Volcano:
Geographical location: Situated in the western South Pacific Ocean, to the west of the primary populated islands within the Kingdom of Tonga.
Tofua arc: It is one of 12 confirmed submarine volcanoes located along the Tofua Arc, which is a section of the larger Tonga-Kermadec volcanic arc.
Arc formation: The Tonga-Kermadec arc was created due to the subduction of the Pacific Plate beneath the Indo-Australian Plate.
Island components: Comprising two small, unpopulated islands named Hunga-Ha'apai and Hunga-Tonga.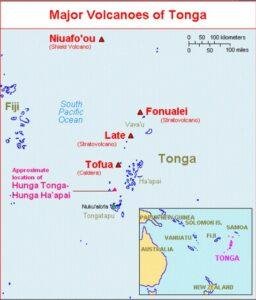 Source: www.indiatoday.in
GS- III >> Environment >> Plastic
Context: Scientists in Japan have developed a new version of plastic called VPR which is based on an epoxy resin vitrimer.
About Vitrimers:
Vitrimers are recent category of plastics known for strength at low temperatures and reshaping under heat.

However, they tend to be very brittle.

To overcome this, researchers added polyrotaxane to the plastic-making process which resulted in VPR.
About VPR:
Stronger and stretcher than the traditional version.

Partially biodegradable.

It can remember complex shapes which can be restored once it is heated.
Source: www.wionews.com
GS- III >> Internal Security >> Security Forces
Context: Recently, the Central Reserve Police Force (CRPF)'s CoBRA elite force withdraw from Jammu & Kashmir amid deployment controversary.
About CoBRA:
Established in 2008, CoBRA is a specialized unit of the Central Reserve Police Force (CRPF).

CoBRA is one of the few CRPF units with specific training in guerilla tactics and jungle warfare.

They are often referred to as 'jungle warriors.'

Initially created to combat the Naxalite problem, CoBRA was trained for tracking, hunting, and eliminating Naxalite groups.

Personnel for CoBRA are selected from the CRPF, and it is an integral part of the CRPF.

CoBRA comprises 10 units, established between 2008 and 2011.

Most CoBRA teams are deployed in states affected by Maoist violence, while some are stationed in northeastern states for counter-insurgency operations.
Source: idrw.org